Call for Papers – Digitalization & Platform Economy (Deadline 31.05.2020)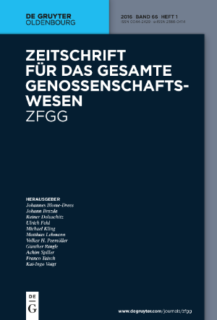 Announcement from the ZfgG (Journal of Co-operative Studies) 
Call for Papers:  Digitalization is still the determining subject for cooperatives of all sectors. Meanwhile, most cooperatives deal with the subject and have started to implement digital products and to develop process- and business-model-innovations. Besides digitalization in general, specifically the issue of platform economy is gaining considerable interest.
For this reason we are looking for articles of theory and practice, that show, how cooperatives can be set up successfully in the disruptive changing field of digitalization and how they can achieve sustainable success on the market. In this context, the word "success" does not consider economic key figures alone, but rather focuses on increasing membership benefit.
Article that pass our review process, will be published in a special issue of the ZfgG ("Zeitschrift für das gesamte Genossenschaftswesen") entitled "Digitalization and platform economy – challenges for cooperatives' success". The articles should consist of between 30.000 to 40.000 signs. Crucial for acceptance of publication is the scientifical quality (Double Blind Peer Review). The deadline for submission is May 31, 2020.  
For questions and further information, please contact Mr. Bachmann at: redaktion@zfgg.de.
More information available here: Call for Papers